Looking for a Christ-centered school that your family and your child will love? SCA students love school because they are surrounded by a supportive community and experienced teachers. To schedule a campus visit, complete this contact form or call our office: (830) 220-5226.
We look forward to meeting you and your student(s).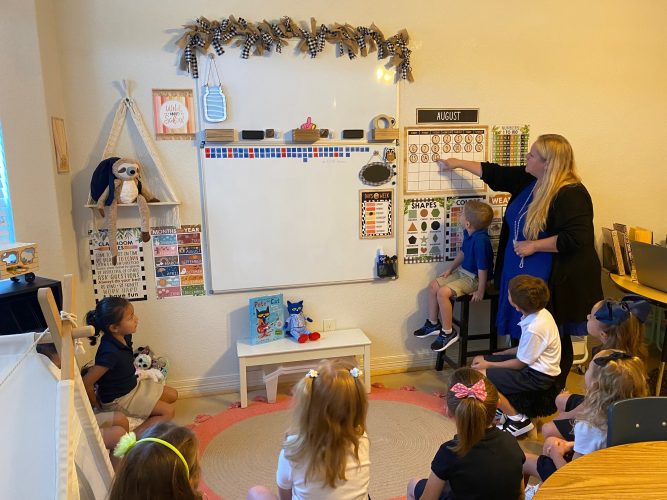 Complete the Family Interest Form – linked below.

Visit the school for a tour and initial meeting.

Schedule a Shadow Day for your student(s) if you wish.

Meet with the Head of School for a Family Interview.

If both you and the Head of School are in agreement that SCA is God's provision for your student(s), then the final step is to: 
Complete the Full Enrollment Form in FACTS:  SCA Enrollment form in FACTS 
Once your enrollment is approved, welcome to SCA!
 
Tuition
Total Annual Tuition Per Student,

Ten Month Payment Plan

$750 per month, August through May 

$7,500.

Total Tuition if Paid in Full by Aug. 1:  3% discount

(For late enrollments, by Aug. 31)

$7,275.

Sibling Discount Total Annual Tuition:  5% discount

Ten Month Payment Plan

$712.50 per month, Aug. – May

$7,125.

Sibling Discount and Paid in Full by Aug. 1

$6,900.

Mid-Year Enrollment Tuition:  

Prorated to $750 per month as follows: 

For the month of enrollment, plus all remaining months; 

May be paid monthly or in full (no discount).
Registration Fee  per student.
| | |
| --- | --- |
| Registration Fee, Returning Families: Prior to March 1  | $350. |
| Registration Fee, New Families: Prior to March 1 | $350. |
| Registration Fee, All Families: After May 1 | $550. |
Placement Assessment Fee
$50 Placement Assessment for all new students.
We strive to have attainable Christian education for all children, and we provide tuition assistance for families who qualify. We are able to provide tuition assistance by partnering with parents, families, churches, businesses, donors, and volunteers. We are a 501(c)3 non-profit, and we are able to accomplish our mission with support from the community. Call us to schedule an educational consultation visit to learn about our tuition and tuition assistance.
Tuition covers salaries, teacher needs, and professional development for faculty and staff – ensuring we are able to recruit and retain outstanding teachers who continue to offer our children the very best, research-based best practices for Christian teaching and learning in every classroom. It also funds curriculum, programs, and school supplies, and provides basic support for our campus facilities and maintenance. Fundraising efforts throughout the year such as Read-A-Thon, our Annual Gala, and other fun events help us bridge the gap for important projects such as enrichment programs and school improvements.